OUR TEAM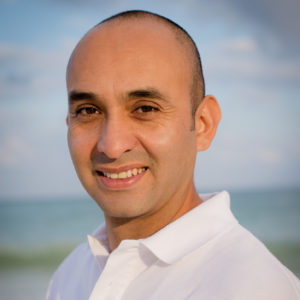 Hugo Rivera: Paradise Wellness Massage "on the go"
I am a Certified and Registered Massage Therapist, originally from Mexico City.  I was drawn to Playa del Carmen almost 15 years ago because of the natural beauty, the Caribbean sea and the relaxed lifestyle. Eight years ago I became a massage therapist to bring better health and a sense of calm and wellness to both visitors and year round residents. I see many clients in their homes because this is a peaceful environment that helps them relax. They don't have to get in a car and drive anywhere afterwards ! With a high quality portable massage table, soothing music for the session, pure massage oils and a variety of  massage techniques,  I can give each client a very customized treatment and experience. I've worked with private clients and with groups in a retreat setting – I love the flexibility that Paradise Wellness provides. For me, it all comes down to this: I enjoy helping people and seeing the progress they make with regular therapeutic massage treatments. I speak fluent English in addition to Spanish. Check out our rates for Paradise Massage "On the Go" or contact us to set up an appointment with Hugo.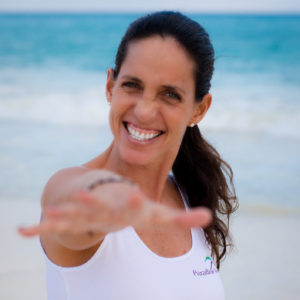 Anne Bauche: Vinyassa Yoga Sessions and Classes 
I offer private yoga sessions or small group classes to anyone who wants to add the practice of yoga to their life.  I was born in Mexico City, raised in Cuernavaca and have lived in Playa del Carmen for seven  years. Playa del Carmen has so much to offer – the beautiful beaches, amazing Mayan ruins, unspoiled cenotes, scuba sites, salsa dancing and lots of yoga! I have been practicing Yoga for many years and teaching Yoga daily for six years.  I focus on Vinyassa yoga, with either a vigorous or a gentle flow. I was drawn to teaching because I want to share what yoga has brought to my life. It is truly my passion – Healing and serenity flow to anyone who starts a regular Yoga practice, even beginners.  You don't need to have perfect flexibility or natural ability to get started with Yoga. Your practice starts where you are now and the value – the benefits – build session by session. I speak fluent English as well as Spanish. Check out our rates for Vinyassa Yoga sessions or  contact us to set up an appointment with Anne.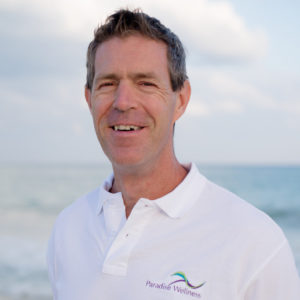 Ian Kelley: Paradise Wellness Personal Training, Fitness and Biking
I'm a Personal Trainer in Playa del Carmen. I started my journey as a chef before getting involved in bodybuilding competitions and authoring books on health and fitness. Kick Butt Boot Camp is my signature approach to personal training and its been very popular with clients interested in improving their fitness levels and general health. While some personal trainers are basically teachers, I consider myself an entertainer. My fun, challenging, efficient routines get results fast. I also offer free exercise and cooking videos that can help you improve your life whether or not you're ready to commit to personal training sessions. I offer visitors and residents 1:1 personal training sessions at The Gym, Playa del Carmen's top facility. For clients interested in getting outside into our amazing Caribbean environment, I also offer high quality bikes for rent. For fitness clients, we can incorporate biking into your holiday or your everyday life. The benefits from biking are amazing and having quality equipment and a guide makes it easy to get started. I speak Spanish as well as English. Check out Ian's personal training rates or contact us to set up an appointment with Ian.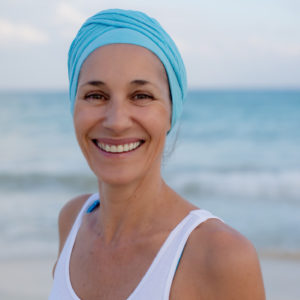 Sadhana Kaur (Claudine LeCorre): Paradise Wellness Kundalini Yoga Sessions and Classes
I offer Kundalini Yoga to anyone who is on a journey to awaken their consciousness. Born and raised in France, I was certified in Kundalini Yoga in 1989 before moving to Playa del Carmen twenty years ago. I have taught Kundalini for the past 14 years and every day I am asked about this yoga practice.  Kundalini yoga awakens your energy through meditation, chanting, controlled breathing and seated positions or asanas.  This form of yoga is thought to cultivate a creative spirit and help us uphold values, speak truth, and focus on the compassion.  My Kundalini Yoga practice can be shared with Paradise Wellness clients in private sessions, small classes or in retreat settings.  Experiencing Kundalini Yoga offers a deep quiet, a strong sense of peace and at the same time, energy and focus. I speak fluent French, Spanish and English. Check out our rates for Kundalini Yoga or contact us to set up an appointment with Sadhana Kaur.

Phone: Mexico +52.1.984.115.1422 or Canada +1.778.403.1926  E-mail: Sharonlee@Paradise-Wellness.com