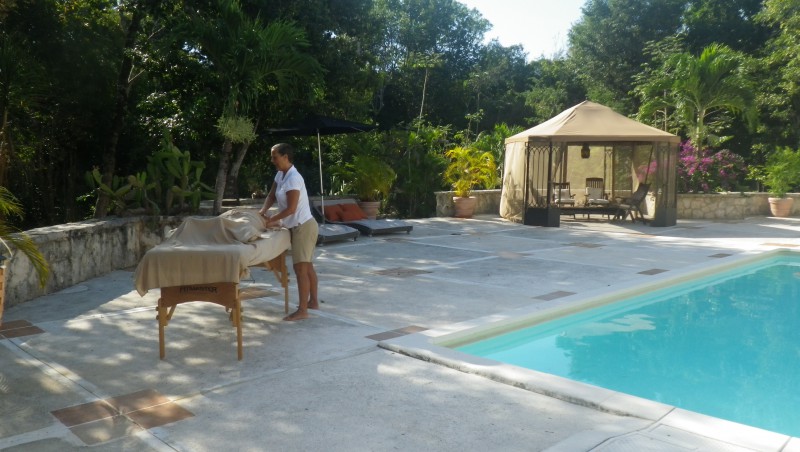 Welcome to The Villa brought to you by Paradise-Wellness.
We are proud to present this  beautiful off-grid luxury jungle villa. Nestled 3 kilometers in the jungle across the highway from Xpu-ha beach in the the Rivera Maya. We are 1 hour and 15 minutes south of the Cancun airport. 20 minutes south of the famous 5th avenue of Playa Del Carmen. 30 minutes to the beaches and artisan shopping of Tulum. Cenotes, Ruines are in abundance all around.
Have you ever wanted to just customize your own getaway vacation or private retreat? Maybey you have been to the Rivera Maya and fell in love with it and want a more personal quiet private experience. We have lots of amazingly beautiful All-inclusive and boutique hotels in the area,that is typically what the Rivera Maya is famous for. How ever if you are looking for more privacy, personalized services customized to your wishes and a  place to relax, chill out in nature, unplug (we do have wi-fi), away from the crowds well you have come to the right place. We  have custom healthy cuisine created just for you catering to vegan, vegitarian, palio, or celiac diets. We source as local and organic as we can. We have certified experienced therapists , practictioners as well we work with the local healers upon request. Sharonlee brings her loving intention to holding space for you with customized day trips as well as her Signature Session- a healing theraphy that combines Ayurvedic massage Reiki and Reflexology combined in an intuative session- no less than 90 minutes.
We have a variety of Vacation options:
B and B style vacations  Sharonlee is your in house hostess where you come to the villa and share amenities with other guests. Starting at 300 USD PP night.  No single supplement charge. No minimum nights.
This includes custom cuisine, non alcoholic beverages.
Optional add-ons for an extra charge. Signature Session with Sharonlee. Yoga classes, day excursions, Massages. For pricing click HERE. This way you can create your own holiday as you go along. We request 24-48 hours notice to add on services. Sharonlee will be with you at The Villa and will be able to let you know right away how soon we can schedule, and what works best for you on your vacation. You are welcome to pre-arrange your add-ons with Sharonlee before you arrive to customs create your dream vacation.
Rent the whole Villa as your private jungle oasis – this is designed for and includes 1- 4 persons sharing amenities . Sharonlee is your in-house hostess.  Starting at 1000 USD per night.  No minimum nights, only Health and Wellness lifestyle guests only.
This includes custom cuisine, non alcholic beverages, 1 hr Registered Massage theraphy session PP.
Staying Solo? We will customize a day trip or yoga with certified instructors for you in leu of Massages if you choose.
Daytime event options starting at 600 USD
LiViT LearNiT LoViT Retreats
These are customized retreats for you to take time for yourself, recharge,relax,radical selfcare . These include custom cuisine, non alcholic beverages, yoga, massage, Learning LiViT healthy lifestyle workshops, and healthy adventure to  cenote in a private community with caverns and a jungle art gallery tour with LiViT picnic
4 day Retreat. Starting at 1400 USD PP based on double occupancy Single supplement 600 USD
We can customize to the days you would like to stay – 350 USD per day PP
We can customize the health and wellness services and healthy adventures you would like for your group- prices vary
max occupancy on the villa is 4 guests- 2 rooms sharing amenities
Transportation from Cancun airport to The Villa is 75 USD each way 150 USD return.
Airfair not included.
Please feel free to send us an email or give us a call so we can  personalized services for you or your group. We look forward to hearing from you.
Phone: Mexico +52.1.984.115.1422 or Canada +1.778.403.1926  E-mail: Sharonlee@Paradise-Wellness.com