FEES & BOOKING

FEES
If you are a concierge or making arrangements for a group, contact us for special pricing!
Sharonlee's Signature Wellness Treatment at the Paradise Wellness studio: $125 for 90+ minutes

Oracle card readings with Sharonlee: $45 for 40 minutes

Reiki treatments with Sharonlee at the Paradise Wellness studio: $100 for 60 minutes

Paradise "On the Go" 60 minute massage or Reiki treatment : $100

Yoga Workshop and Temezcal for one to eight participants: $200 per person

Half day Healthy Adventures with lunch: Four to five hours per person – $125 and up. 

Full day Healthy Adventures with lunch: Eight to nine hours per person – $195 and up. 

Oracle card readings and a LiViT healthy whole foods luncheon for four participants: $200

Sharonlee's Signature Wellness Treatment, Oracle card reading and a LiViT healthy whole foods luncheon for one person (five to six hours): $175

Private Crystal Singing Bowls concert and meditation (90 minutes): $400

Multi day Paradise Wellness Retreats – Contact us to discuss your needs and interests
Gift certificates make a wonderful present! Contact us to purchase your special someone a Paradise Wellness gift certificate.
Commitment and Cacao ceremonies – Starting at $6000 for turnkey event planning
Massage "On The Go" and Crystal Singing Bowls concerts can be scheduled at your home. Some services can be scheduled in a private jungle santuary and temple. Contact us for more details.
SCHEDULING YOUR SESSION 
Appointments can be booked by telephone or email. In Mexico, call 52.1.984.115.1422 (+WhatsApp) In Canada or the US, dial 1.778.403.1926 (no text messages). Or contact us by email at Sharonlee@Paradise-Wellness.com.
Once your appointment time is scheduled, we will send you an email noting the time and fee, with a PayPal link for your Visa or MasterCard payment. We require 100% payment to confirm bodywork sessions and oracle card readings. Adventures are invoiced in full at the time of booking. Your Paradise Wellness service is confirmed when we receive your payment.
At your appointment, we accept US dollars or Mexican pesos for tips or service additions.  Cancellations or rescheduled sessions are happily accepted up to 24 hours before your appointment. For appointments canceled less than 24 hours before,  or for no-shows, we will charge your credit card the full amount of your session.
If you have received a gift certificate from Paradise Wellness, please note that cancellations or changes are also accepted up to 24 hours before your session. Clients using gift certificates who cancel their session less than 24 hours in advance or who miss the appointment will forfeit the certificate.
Please arrive 15 minutes before your scheduled appointment time. If you are late for your session, we are happy to offer a shorter form of the treatment if possible. There are no refunds for a session which runs less than the booked time due to a late arrival.
Please note that we cannot offer service discounts: We take your health and wellness needs seriously and will devote our full energies to helping you achieve your goals.
STUDIO LOCATION
For Signature Treatments, Reiki and Oracle card readings: Sharonlee's studio is located in the centro area of Playa del Carmen, at the corner of Avenida 40 and Calle 3 Sur. Taxi fares from most areas of Playa del Carmen to her studio are approximately 75 pesos or $6 USD. Note that there are two entrances to the building; her's is located on Calle 3 Sur. Look for the big gold door – see the photo below. If you are a local resident, simply text her cellphone when you arrive. It you are a visitor or on vacation, she will be outside waiting for you when you arrive.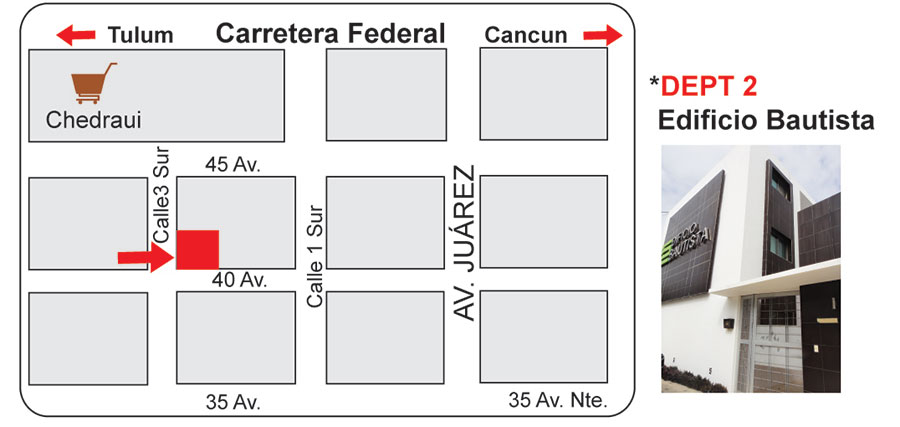 Phone: Mexico: + 52.1.984.115.1422 or Canada: +1.778.403.1926  E-mail: Sharonlee@Paradise-Wellness.com